Call for Proposals: EPIC-Lang Conference 2023
Reimagined Critical Pedagogy: Resistance and Solidarity in Language Classrooms
Friday, April 28 to Saturday, April 29, 2023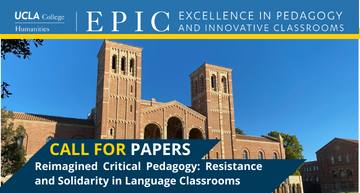 The Excellence in Pedagogy and Innovative Classrooms (EPIC) Program, an initiative from the UCLA Division of Humanities, is pleased to host the "Reimagined Critical Pedagogy: Resistance and Solidarity in Language Classrooms" conference focused on language pedagogy. Conference sessions will be held both in person and remotely on Friday, April 28th and remotely on Saturday, April 29th, 2023. Our keynote speaker will be Professor Henry A. Giroux (McMaster University Chair for Scholarship in the Public Interest in English and Cultural Studies, Paulo Freire Distinguished Scholar in Critical Pedagogy).
EPIC-Lang(uage) invites you to propose full panel sessions or individual papers which aim to explore the integration of critical pedagogy into our Modern Language programs through building EDIA (equity, diversity, inclusion, and accessible) based Instruction, Content and Assessments into our language courses. While re-imagined language classes focus more on teaching academic and critical thinking skills rather than language specific skills, the current transformed language learning and teaching landscape compels us to make our language instruction more meaningful and diverse in their objectives. We seek proposals that address the needs of future language learners and educators in Language Humanities which focuses on critical pedagogy, and proposals that develop innovative curricula  to enable solidarity and resistance through a language classroom. The language classroom is re-imagined to become a focal point to empower students and provide a place for them to explore their related life goals. The objective of this EPIC-Lang international conference is to provide a comprehensive academic experience for language educators of all languages at the University level.
We welcome individual paper or full panel proposals  on any of the following themes:
– Solidarity, Resistance and Student Empowerment through Language courses
– Multilingualism, Translanguaging, Intercomprehension, MultiLiteracies in Language Classes
– Examples of transformed methodology in language courses – Instruction, Content or Assessments
Individual presentations will be allotted 20 minutes each while panels will be allotted 50 minutes and may comprise no more than 3 speakers. Each panel proposal must identify their panel topic and speakers clearly in the proposal. We welcome submissions from faculty, graduate students, and independent scholars.
Panel or paper proposal submissions must include the following:
– paper abstract(s)
– presenter name(s)
– session topic (must be one of the three topics listed above)
– institutional affiliation and title or rank (if any)
– email information for all presenters
To be considered for the conference, proposals must be submitted by Friday, March 31, 2023. For questions, contact epic@humnet.ucla.edu.
This conference was made possible by the Andrew W. Mellon Foundation.