Meredith Cohen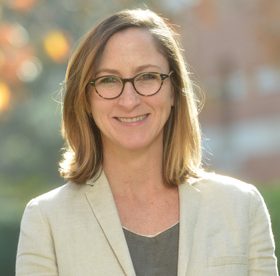 Associate Professor, Art History Department
Meredith Cohen obtained her Ph.D. from Columbia University and joined the Department of Art History at UCLA in 2010 after having spent a decade conducting research and teaching at universities in England and France. She specializes in the art, architecture, and urban development of high medieval Europe (c. 1000 – c. 1450). Her research and teaching are concerned with buildings archaeology, production and reception, historiography, as well as the function and cultural heritage of art and architecture. Her publications address sacred and secular architecture in medieval France.
Professor Cohen's first monograph, entitled The Sainte-Chapelle and the Construction of Sacral Monarchy: Royal Architecture in Thirteenth-Century Paris (Cambridge University Press, 2015) was awarded the Society of Architectural Historians' Alice Davis Hitchcock Book Award in 2017. She has published articles in JSAH, Speculum, Res, and contributed essays to edited books as well as edited a series of interdisciplinary volumes on medieval history and culture. In 2010, she co-curated an exhibition on medieval Paris at the Musée national du Moyen-Âge—Thermes de Cluny, titled Paris, ville rayonnante ("Paris, Rayonnant City") (ed. RMN, 2010), and she remains a consultant for exhibitions in France.
Her current research project, titled Paris Past and Present, aims to digitally reconstruct the lost monuments of medieval Paris in 3D, an enterprise that brings together in research and teaching undergraduate and graduate students, post-doctoral researchers as well as international collaborators. The team has completed a series of monuments from thirteenth-century Paris, including an archaeologically accurate digital reconstruction and animation of the thirteenth-century Lady Chapel of the abbey of Saint-Germain des Prés. The project has been generously funded by UCLA as well as the Samuel H. Kress Foundation. To view this project, click here.