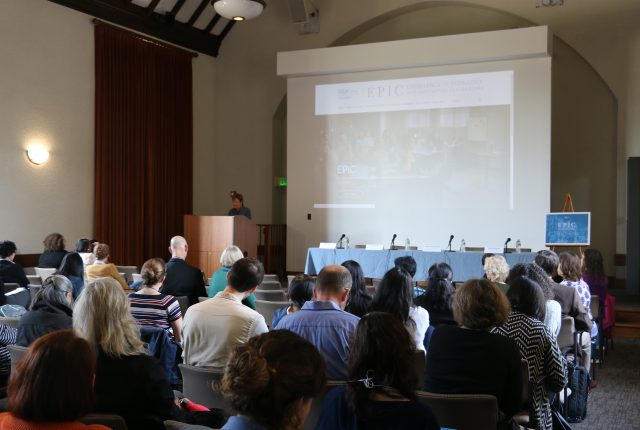 EPIC held its inaugural conference, Humanities Now: Transformative Teaching, from April 5 to 6, 2018  in Royce Hall here at UCLA. The conference brought together professors, graduate students, public humanities scholars, and education professionals from a multitude of humanities fields and institutions in order to participate in an extensive conversation on pedagogy in the humanities.
The evening of the first day featured a keynote address from Dr. Jerry Kang,Vice Chancellor for Equity, Diversity, and Inclusion at UCLA. Likewise, on the morning of the second day, Dr. Lynn Pasquerella, President of the Association of American Colleges and Universities, gave her keynote address. Both Dr. Kang and Dr. Pasquerella focused on the significant individual and societal benefits of a humanities education, especially its ability to empower marginalized groups, and what we stand to lose when we fail to make higher education in the humanities accessible to all.
Dr Pasquerella's keynote was followed by panel sessions on three core topics: inclusive classrooms, innovative teaching with technology, and community engaged teaching.
On the Inclusive Classrooms panel, Edna Chavarry spoke on the challenges facing undocumented and underrepresented students and how to foster student belonging; Catherine Knight Steele presented on creating inclusivity in the classroom through hands-on skill development and collaboration between many types of experts via the African American Digital Humanities Initiative; and Mana Hayakawa discussed what disability studies can teach us about classrooms and how we can use that work to think critically about our own teaching practices.
On the Innovative Teaching with Technology panel, Mary Flanagan addressed the ways in which technology can work with physical spaces to encourage more hands-on learning, Miriam Posner spoke on methods for encouraging students from all skill ranges to grasp technological skills, and Juliette Levy presented on Digital Zombies, an ongoing digital project that combines research methods, digital literacy and critical thinking.
On the Community Engaged Teaching panel, Beth Goodhue discussed best practices for partnering with community organizations learned through UCLA's Community Center for Learning, Sara Ogger spoke on the role of humanities outside of academia as seen in her work at Humanities New York, and Gary Handwerk presented on creating and sustaining a community engaged classroom endeavor through his work at the University of Washington's Texts and Teachers program.
The three panels were followed by a candid discussion on Pedagogical Training and the Market between David MacFayden (Professor and Chair of UCLA's Department of Comparative Literature), Annie Maxfield (Associate Director of Graduate Relations and Services), Chris Mott (Senior Lecturer and Director of Teaching Assistant Training for UCLA's Department of English), and Rebecca Lippman (doctoral student in Comparative Literature at UCLA).
The final panel of the day consisted of a graduate student response, which sparked, through an open forum format, a lively discussion amongst all the attendees on the topics from all the preceding panels.
For a full list of all of the conference panelists and facilitators, including their bios, please click here:Video of the conference panels and keynotes will be available soon through EPIC's Youtube page.