Teaching at UCLA: Looking Forward with 2020 Vision
Apr 12, 2021
-
Apr 16, 2021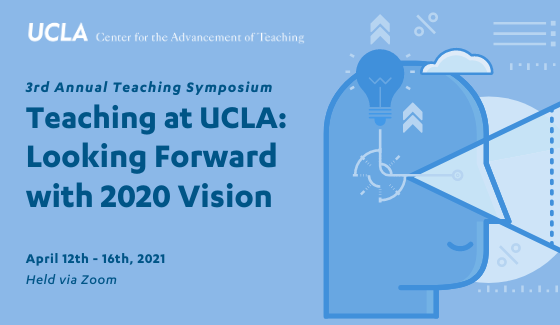 Please join the Center for the Advancement of Teaching for the third annual UCLA teaching symposium — Teaching at UCLA: Looking Forward with 2020 Vision.
This year's symposium will take place during the third week of spring quarter, April 12-16, and will focus on the theme "what we learned from remote teaching that we can apply to the future when we are back in person." Sessions will be hosted by the Center for the Advancement of Teaching (CAT) as well as our campus partners, the Center for Education Innovation and Learning in the Sciences (CEILS), Excellence in Pedagogy and Innovative Classrooms (EPIC), and Online Teaching & Learning (OTL).
Sessions include faculty lightning talks, faculty and student panels and a roundtable discussion, and workshops. Please visit our symposium page for a schedule of the week, session description, and a link to register for the event.