Humanities Dialogues: Responsibility
Feb 22, 2019 @ 1:00 pm
-
2:15 pm
Royce Hall 342,
10745 Dickson Ct




Los Angeles

,

CA

90095

United States
+ Google Map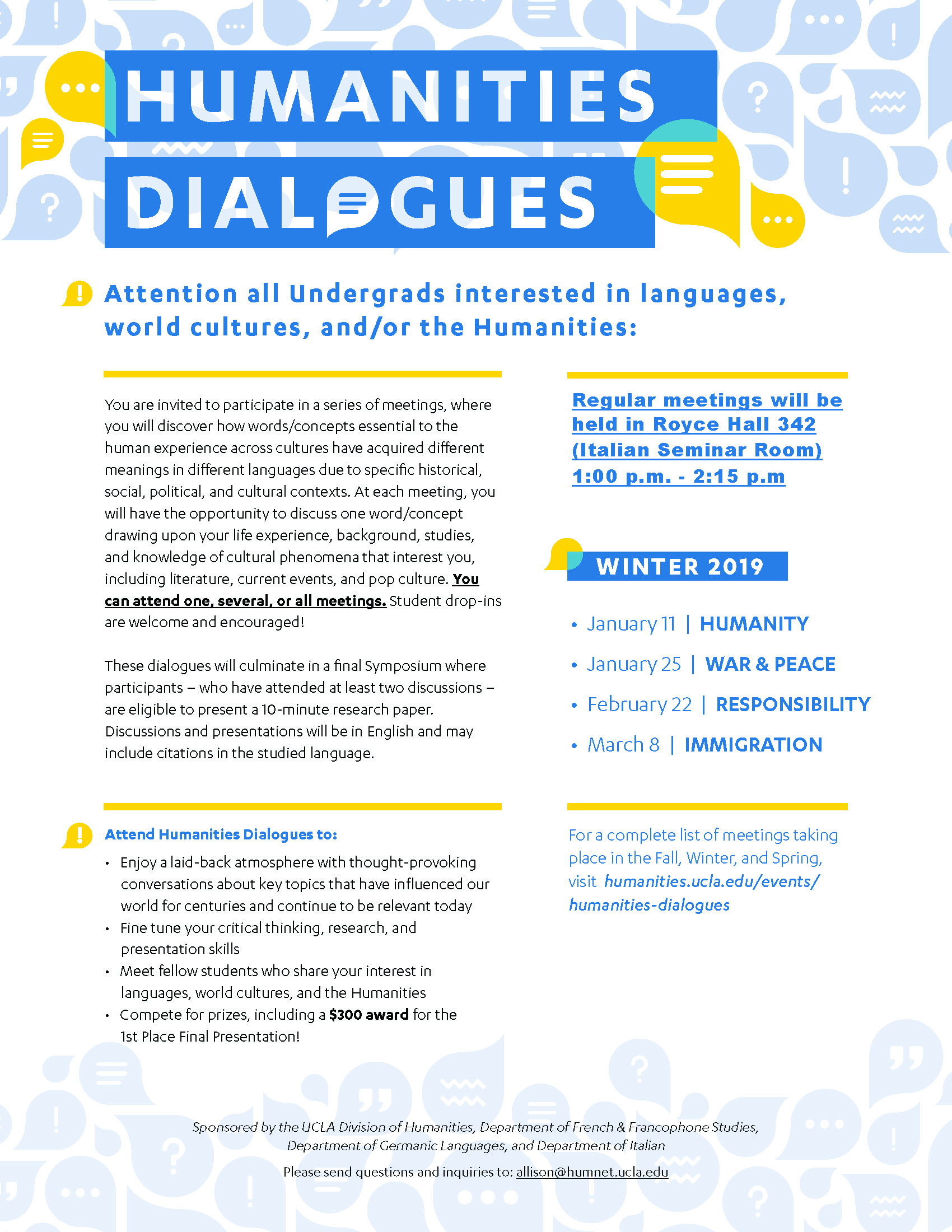 You are invited to participate in a series of meetings, where you will discover how words/concepts essential to the human experience across cultures have acquired different meanings in different languages due to specific historical, social, political, and cultural contexts.
At each meeting, you will have the opportunity to discuss one word/concept drawing upon your life experience, background, studies, and knowledge of cultural phenomena that interest you, including literature, current events, and pop culture. You can attend one, several, or all meetings. Student drop-ins are welcome and encouraged!
These dialogues will culminate in a final Symposium where participants – who have attended at least two discussions – are eligible to present a 10-minute research paper. Discussions and presentations will be in English and may include citations in the studied language.
Attend Humanities Dialogues to:
Enjoy a laid-back atmosphere with thought-provoking conversations about key topics that have influenced our world for centuries and continue to be relevant today
Fine tune your critical thinking, research, and presentation skills
Meet fellow students who share your interest in languages, world cultures, and the Humanities
Compete for prizes, including a $300 award for the 1st Place Final Presentation!
Regular meetings will be held in: Royce Hall 342 (Italian Seminar Room) time indicated below
WINTER 2019
from 1:00pm-2:15pm
January 11 | HUMANITY
January 25 | WAR & PEACE
February 22 | RESPONSIBILITY
March 8 | IMMIGRATION